January 15th 2020
This is just a short message to introduce myself as I have agreed to take on the role of group leader of Flowers for Fun. The first meeting of the group for 2020 will be
at 10.30 on Friday, 24th January
, at the Coffee Cup (formerly the Bee Hive) in Castle Street.
My husband and I moved to Bolsover early last year and joined BDU3A as soon as we became aware that there was a branch here. I have done mainly church flower arranging for several years and it is a hobby which I thoroughly enjoy. However, the purpose of our first meeting is to discuss what the group as a whole wishes to do for the forthcoming year, so your views will be very welcome. It will not be necessary to bring flowers, oasis or any other materials this time.
We have spaces for new members, if you are interested in exploring the art of flower arranging and learning new skills, why not join us on the 24th to find out what we have planned.
I look forward to seeing you  on the 24th.
Kind regards,
Jill
November 22nd 2019
Today was our our last meet until the New Year and sadly we said cheerio to Chris who has lead the Group for the last 3 years.  However we do have a potential new Group Leader and we will be meeting on Friday 24th January to discuss and agree a programme for 2020.
Back to today, our theme was Christmas, here are some photographs of the most delightful arrangements
October 25th 2019
Novembers theme is Christmas
We always have fun at Flowers for Fun and today was no exception.  The talent and inspiration never ceases to amaze.  Our theme this month was Bonfire or Halloween, some were a bit of both.  We were only a small group, but the results are pictured below.
Halloween, Fireworks, Halloween Bonfire, Halloween and Halloween
September 27th 2019
This month's theme was the weather, we have from top to bottom.  Beautiful blooms.
Summer Sunshine, Thunder Clouds, Rain Clouds and Lighting, Rainbow, with the Sun and the Rain, then Snow Storm in a Tea Cup
October is Halloween/Guy Fawlkes
Below shows Halloween
Once again a very enjoyable afternoon "messing about with flowers",  very rewarding and some beautiful inventive arrangements
August 23rd 2019
A very pleasant warm afternoon, trying to remember the words of our favourite childhood nursery rhyme while attempting to create a picture in flowers.
Above we have, Ring a Ring of Roses,  Three Little Kittens have lost their Mittens,  Oranges and Lemons, Incy Wincy Spider,   Humpty Dumpty, fallen off the wall!  Little Miss Muffet.
All telling a story, All beautifully presented.
July 26th 2019
What a fun afternoon, getting to know our new venue, like finding the kettle and cups!  Priority's!  The theme was film, we had
White Christmas
Gone With The Wind
South Pacific
Driving Miss Daisy
The Mummy Book of the Dead
Excellent arrangements, relaxed and enjoyable.
Just don't have nightmares over the last one 🤣
28th June 2019
Despite not having access to our usual venue, we managed to produce some excellent flower arrangements after adjourning to one of our members kitchen, who very kindly offered to take us in!  The theme was history, we had two delightful displays of "The Wars of the Roses"." The Women's Suffrage Movement"  and a very clever "Geological Time Line" or "The Dawn of Time"
For next month's challenge it is Film.  The arrangement shown is "Dial M for Murder"
24th May 2019
The subject -Travel
From Japanese Gardens to the humble travel bag, the seaside to a sailing ship, around the world and a road train, fabulous floral arrangements, full of colour artistic flare and imagination.
And next month, it's history!
26th April 2019
Another fun afternoon creating beautiful flower arrangements, this  time "Celebration"
A photograph below shows a celebration of a garden in bloom entitled How Does Your Garden Grow, a very innovative idea, and beautifully done
The second photo demonstrates what members will be producing next month, the subject is Travel.  An Australian theme.
22nd March 2019
So, this afternoon was collectibles and we had some fabulous arrangements.  Pictured here
Crystals and Stones, Woodland Creatures, Birds,  Earings, Photographs and Porcelain, very creative and such individual interpretations of the brief.  So relaxing and great fun.
Below are two examples of next month's brief  Celebrations the first photograph is for graduation, the second, for Mother's Day
22nd February 2019
Back in the swing of things today, great afternoon creating "hobbies" in flowers.
We had, gardening, sewing, knitting, art, craft, and shopping!  The shopping photo to follow!
Next time it's Collectables, bellow it's Stamps!
As promised the bag, the hobbie?  Shopping!
30th November 2018
Our last meet this year and the theme was Christmas, the photos speak for themselves, after a fun afternoon we all went home happy.
Our first meeting of the New Year will be on Friday 25th January 2019, to discuss and plan the New Year programme.
26th October 2018
Friday was another fun filled relaxing afternoon.  We were a bit thin on the ground, but that didn't stop us making some impressive flower displays of "Fireworks" and Halloween. See if you can spot the dry flower arrangement!
Christmas arrangements were demonstrated as examples of what we can produced next month
November will be the las Flowers for Fun of 2018.  Plans for 2019 will follow.
28th September 2018
Flowers for Fun we're back with a bang today.  Once again a relaxing afternoon, just enjoying the company, but producing the most amazing displays.  See for yourself, make your own mind up.  If you like what you see why not join us next month.  Below, the first photograph shows next month's project, Bonfire Night. Demonstrated by Chris.  The other six show displays of multi colour done by group members this afternoon, beautiful!
23rd June 2018
There is a new flower shop opened in Hillstown, just around the corner from the Methodist Chapel where the Flowers for Fun Group meet.  This shop may  be useful for the group to use.  It is called Bolsover Flowers.
29th June 2018
Once again a lovely afternoon, our arrangements this time incorporated wood.  We all had the same brief, how different the interpretations, beautiful.
This group is now taking a break until September, hope to see new members.
28th June 2018
Five of us went to help with the Elmton Well dressing.  Our contribution
25th May 2018
Once  again fun on Friday with flowers and friends.  Today we created arrangements of parallels.  It is amazing how members interpret, the same brief , so differently.  Every arrangement so beautiful, not one the same as the next.
Next month, the arrangement should include wood, drift wood has been used in the display shown below
30th April 2018
Another fun afternoon at Flowers for Fun, on Friday 27th April.  The challenge was a crescent shaped arrangement in a tall vase/container.  The first photo is an arrangement by one of our members who has never done any sort of flower arranging,  just find a jar and plonk them in!  Pretty impressive, I'm sure you'll agree. The second photo shows an alternative crescent shape, (top right)  all fabulous, all very different.
May's challenge "parallels"
 24th March 2018
Once again Flowers for Fun lived up to its reputation, great fun, great arrangements.
And yet more fantastic Easter Flower creations
Now for our exciting challenge for April, a crescent shaped arrangement in a tall container, wow!  Hope we can recreate this beautiful display demonstrated by Chris.
23rd February 2018
Well Flowers for Fun was certainly fun this afternoon.  Our challenge was to use an unusual container, so from flower troughs to tea pots, an altar font to tea cups, from a boot to a ladle, they were all there, fabulous.  But judge for yourself and take a look at the photographs.
29th January 2018
December 15th 2017
A fabulous end to a fabulous year, thank you so much Chris, exciting flower arrangements, challenging and beautiful.  The photograph shows Christmas Platter and Christmas Wreaths, come and join us in the New Year, enjoyment guaranteed!
November 25th 2017
In order to accommodate any Christmas plans members may have made for the build up to the big day, Flowers for Fun are meeting at the earlier date in the month on Friday the 15th December, Hillstown Methodist Church. The subject? Christmas Platter. See BDU3A website for a photograph of an example of what we aim to achieve. A reminder will be circulated nearer the date.
November 24th 2017
Another great afternoon at Flowers for Fun.  Pictured are the groups arrangements, the theme similar shades of the same colour.  Also pictured is a Christmas arrangement the group will be copying 15 th December, 1.30pm, Hillstown Methodist Church, come and give it a go.  Everyone is welcome.  Thanks Chris for your tuition and encouragement.
October 27th 2017
Flowers for Fun certainly lived up to its name today.  The theme was Harvest and the brilliant arrangements pictured tell there own story!
The theme for November will be a display of different shades of the same colour, not sure what that means, take a look at the photo below.
September 29th 2017
A first attempt at Ikebana, the art of Japanese Flower Arranging, great fun, but hard not to over do the content. The second photo is an arrangement by Chris, demonstrating next months challenge! "Harvest Festival". Looking forward to that one.
Bev
We had a new member join us today, she has never done any flower arranging before. Chris set her off on a simple triangle display, the photograph shows the result, impressive springs to mind. Well done Sue.  Bev
The flower arranging group is to be re named FLOWERS FOR FUN. Meetings will be on the LAST FRIDAY of the month at the Methodist Church, Hillstown, 1.30 pm.
Please advise everyone that this will be the last meeting until September 29th when the display will be Ikebana, for further information please contact Chris Cryer and her telephone number is 01623 238709 or mobile: 07778 289858.
                                               Programme for 2017

Flowers for Fun  – 29th September – no subject yet.
 30th June. Subject. Roses-Triangle
July and August Summer Break
29th September. Subject. Minimal – Icibana
27th October. Subject. Harvest
24th November. Subject. Bonfire
15th December. Subject. Christmas Platter
A donation of £1 is payable for the Church to cover heating, lighting, tea/coffee and biscuits all provided by the Church. The group decided this should be paid in advance i.e. February session £5 to take us up to and include June, then September £4 to take us up to and include December.
July 1st
Lovely afternoon, chatting, tea and coffee, but mainly putting together some beautiful flower arrangements. This months theme was a triangle, here are three of the best from this afternoon. We are taking a break until September when the theme will be Ikebana!
Bev
May 26th 2017
Great afternoon as always.  Flowers in a Box was the theme and here are the wonderful arrangements.  Thanks Chris loved every minute.
Once again a fun filled relaxing afternoon spent putting together, in this case, a foliage arrangement.  I would never have guessed that a bunch of leaves of varying types and shades of green  could look so beautiful.  Three of our efforts are shown below.  Also shown are two different arrangements in boxes, our task for next month, demonstrated by Chris, beautiful I'm sure you'll agree.
Bev
January 3rd 2017
The Flower Arrangers are meeting for coffee at the Pillar of Rock (Wetherspoon), Bolsover, 11am, Friday 6th January, to discuss and plan a programme for the coming year. Members are asked to come with ideas/suggestions of what they would like to learn in the world of flower arranging. Books will be available to browse and spark interest. Everyone is welcome to join this very relaxing and fun group. Please note the first meeting will be Friday 3rd February, 1.30pm, at Hillstown Methodist Chapel, and thereafter every first Friday in the month at 1.30pm, this a change in time.
December 3rd 2016
 Another fabulous morning chilling out and creating these amazing Christmas flower arrangements. 
I'm sure I speak for everyone who attended this morning in thanking Chris for her guidance and also thanking those involved in the Methodist Church at Hillstown for allowing us to use their facilities.
  We had great fun, and the results, I think, speak for themselves.
November 30th 2016
Friday 2nd December, 10am, Methodist Church, Hillstown. Our last session, before Christmas and the theme of course is Christmas. You will need a container, flowers and some Christmas decorations of an appropriate size. And £1 donation to the church. Attached is a photo of the arrangement Chris demonstrated, just to give members an idea of what you can do. Please come and join us, an enjoyable experience is guaranteed.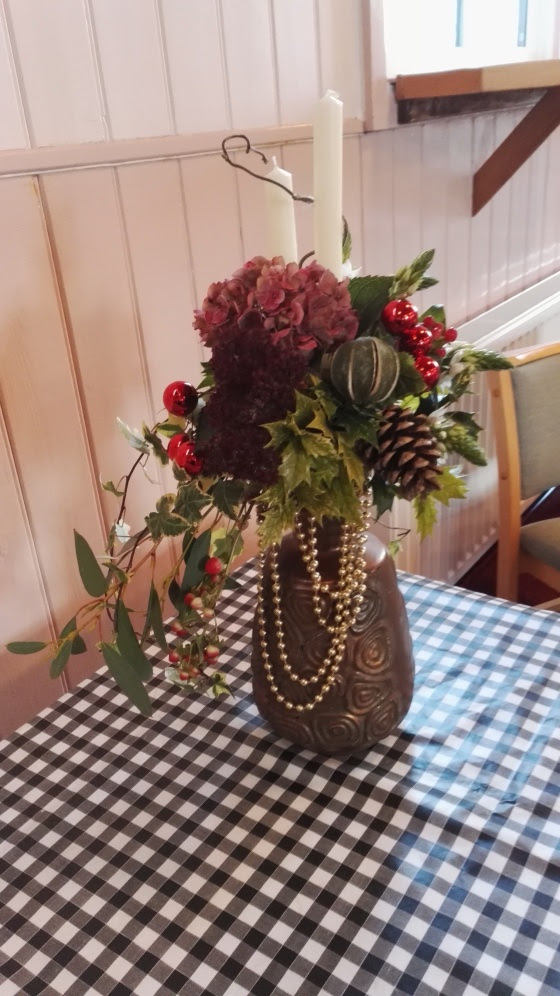 November 4th 2016
Three completed winter casserole flower arrangements made by group members this morning.  We are all very pleased and proud of our finished offerings.  Once again, great fun, many thanks to Chris for her generosity and inspirational ideas.  Also shown are three examples of Christmas arrangements, demonstrated by Chris, and we will try very hard to produce something similar.  Next meet Friday 2nd Dec, 10am, Hillstown Methodist Church.   Bev
October 1st 2016
This months flower arranging is on Friday 7th October, at the Methodist Church, Hillstown, at 10am. Great fun, and very therapeutic. This months topic is Halloween, please bring your own flowers, containers and decorations, Chris will provide oasis and other utensils. The group are asked to make a £1 donation for use of the Church and kitchen facilities. For further information, on this occasion, due to holidays, please contact Jen Sykes, or Ruth Bonner, their details can be found on the BDU3A website.
September 3rd 2016
A fabulously therapeutic morning flower arranging at the Methodist Church, Hillstown.  The first arrangement, demonstrated by Chris, is next months challenge and depicts Halloween, members should think about, decorative ornaments and the colours of the flowers to best represent Halloween.  The second photo is of the arrangements done by members today.  The topic was holidays, and from left to right they are, English summer garden holiday, an English beach holiday, Paris, Australia, Holland. The arrangement at the back rhs, is once again Chris's Halloween display.  Two displays were done by members with flower arrangement experience, the other three were done by members who have had no previous experience!  Can anyone tell which is which?  No?  Why not come and join us, highly recommended.  Thank you Chris, brilliant morning.
Bev
We are launching Flower Arranging on Friday 12th August, this will be at the Methodist Church, Hillstown, at 2pm. Future meetings will be at 10am. Please come and join us, all you need to bring is a cup and saucer and some cash to pay Chris for the flowers and a donation to the church for use of the room. For more information contact Bev Crofts or Jen Sykes, by clicking the link on the 'What's On' page, BDU3A website.
July 10th 2016
Our flower arranging coordinator may not have any 'ology's' but she knows a thing or two about presenting flowers.  Here she is winning first place in a local flower arranging competition this week.
Can't wait to get going with Chris at the helm, our first meeting will be on Friday the 12th August.  More details will be announced very soon and Chris will explain more at our general meeting on Wednesday 20th July, at the Assembly Rooms, Bolsover.
Bev Crofts,  Groups Coordinator for BDU3A.
---
A couple of arrangements put together by several members at our general meeting on Wednesday 16th March. There is plenty of room for more members to join with us, our first meeting has been delayed, but we hope to meet quite soon.
Bev